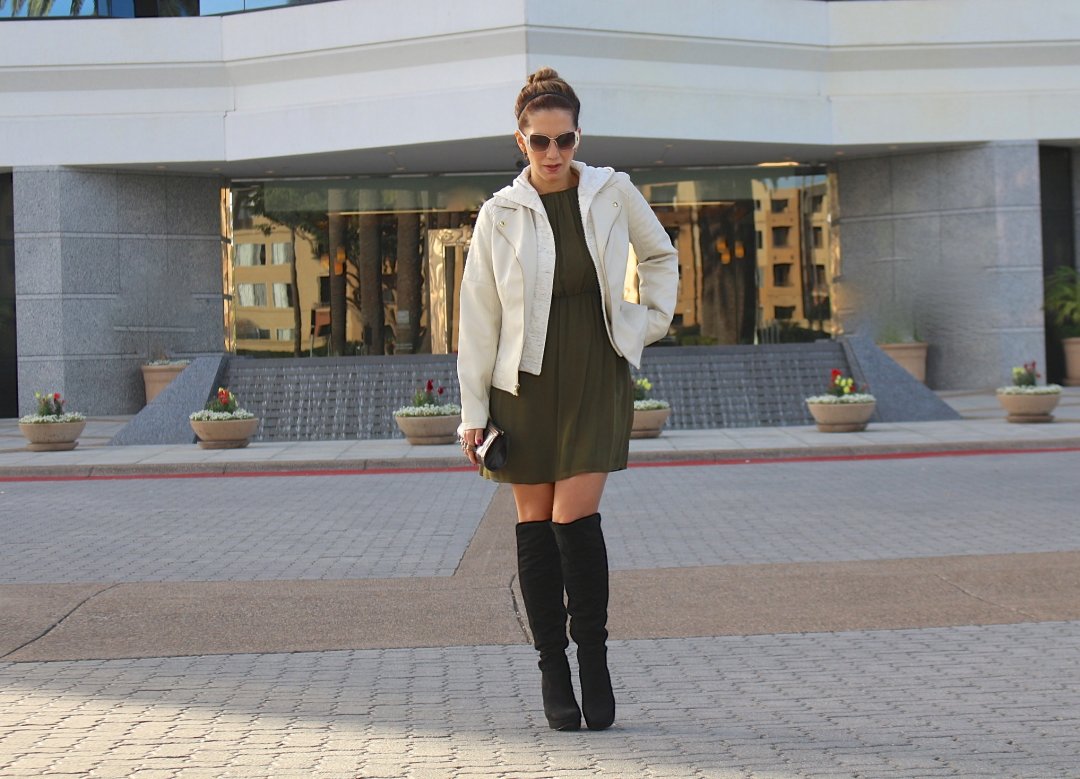 Thank you Gallery  for sponsoring this post. Stay stylish and cozy in a new Gallery jacket this winter!
 
Hello my loves! Hope you're still enjoying the last few hours of this beautiful Sunday. Mother nature, where you at?! I would love to know why the weather is suddenly freezing cold when only a couple of days ago it was too hot to function. Currently, my life consists of waking up to 50˚ weather. Brrrr! How's the climate around your area? Don't be shy and leave a comment below letting me know. Here in San Diego, we had a drastic change in temperature because they dropped dramatically overnight. But in the end, we are a few days away from officially starting the winter season along with winter break. Now, cold weather means that it's time to start styling my outfits according to this change. My all-time favorite thing about the season is that you can wear layers to keep you warm and create stylish outfits at the same time. After warm summer-fall months, I'm ready for winter!
For today's look, I'm layering a faux leather jacket under an olive dress, a biker style from Gallery. This outerwear brand is the reflection of timeless elegance because all of their pieces are carefully designed to bring quality, comfort, and versatility to every garment.
As you probably know, a leather jacket, faux or real, is a piece of clothing that every woman should have in their wardrobe. They are great to complement any outfit, adding a touch of chicness. And this is exactly what I did with my look by incorporating this  faux white leather jacket which is so versatile and also very easy to style with different garments and thanks to its soft terry knit zip-out hoodie you can transition it from day to evening by simply removing the hoodie. Isn't this amazing?! Because believe me when I say that this feature truly comes in handy.
This chic Gallery faux leather jacket is definitely a timeless piece with a subtle hint of edge. It will be my go-to top layer to wear during the season, achieving a purely clean and fresh look. So if you are looking for quality and unique designs to be bundled up with style and without squeezing your budget, take a look at the variety of styles that this brand has to offer and it doesn't matter your location or how cool your area is, Gallery has you covered.
Thanks for stopping by!
XOXO,
…your best moment to shine is now!
I was selected for this opportunity as a member of CLEVER and the content and opinions expressed here are all my own.
---
Faux leather jacket: Gallery
Dress: Alice and Olivia (old)
Sunglasses: Prada
---
¡Hola! Espero que sigas disfrutando las ultimas horas de este lindo domingo.
Madre naturaleza, ¿donde estas? quisiera saber porque el clima repentinamente se puso tan frío, cuando hace un par de dias estaba tan caluroso. Ahora despierto con un clima de 50°. Brrrr! Y ¿como esta el clima en tu area? cuéntamelo en la seccion de comentarios al final del post. Aqui en San Diego el cambio climatico fue drástico de la noche a la mañana. Pero, al final estamos a tan solo unos cuantos dias de la llegada oficial del invierno y sus respectivas vacaciones. Por lo tanto, el clima frío significa que es el momento de crear mis looks de acuerdo a este cambio. Lo que mas me gusta de esta temporada es que puedes llevar capas para mantenerte abrigada y con ellas dar vida a looks creativos y con estilo a la vez. Después de los calurosos meses de verano-otoño, ¡estoy mas que lista para el invierno!
Para el look de hoy, llevo una  chamarra imitacion piel sobre un vestido color verde olivo, un estilo biker de Gallery. Esta marca  de chamarras y abrigos es reflejo de elegancia porque sus piezas estan cuidadosamente diseñadas para brindar calidad, comfort y versatilidad en cada prenda.
Muy probablemente sabras, que una chamarra de piel, imitación o real, es una prenda que toda mujer debe tener en su guardarropa. Son perfectas para complementar cualquier atuendo, añadiendo un toque chic. Y esto es exactamente lo que le dio a mi look esta chamarra, la cual es versátil y muy facil de llevar con diferentes opciones y gracias al suave gorro en tela puedes transformar tu look del dia a la noche con el simple hecho de remover el gorro, lo cual es muy facil porque viene incorporado con un cierre. ¿No te parece maravilloso?
Esta chamarra es atemporal y erá una de mis opciones favoritas para esta temporada, obteniendo con ella un look limpio y fresco. Asi que, si estas buscando un diseño unico y de calidad para sentirte abrigada sin tener que gastar una fortuna, echa un ojo a la variedad de estilos que esta empresa ofrece. No importa el lugar donde te encuentres o lo frio que este en tu area. ¡Gallery se encarga!
Gracias por visitar mi blog.
¡…tu mejor momento de brillar es hoy!
XOXO,
Gallery
leather jacket
white jacket
winter